---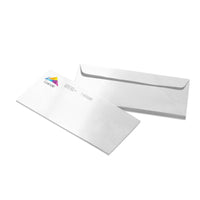 We print on 24lb #10 envelopes, which are perfectly sized for an 8 1/2 x 11 sheet of paper folded in thirds.  The Dimensions are 9.5" x 4.125  Digital Printing of envelopes is available with or without windowsPrinted one side black ink only OR one side full colour.
Choosing to print your envelopes digitally offers 3 great advantages:
1.  Short Lead times -We can print same-day envelopes if there is an emergency.  Typically lead times for digital envelopes are shorter than  traditional offset printing because no plates are needed
2.  Full colour spectrum can be used.  Marketing professionals love putting colour on envelopes and we now often print beautiful images. Take care to make sure Canada Post will be OK with the artwork.
3. Digital printing of envelopes can be integrated into a direct mail campaign.  Why would you run envelopes through a printer more than once when we can print your logo, return address, a postal inddecia AND your recipient's address all in one shot!
The Business Box can print on several sizes of envelopes, and we can use different stocks, such as linen or glama.  Custom jobs are our specialty so please contact us with your project's details.