---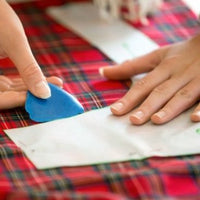 PDF Sewing patterns can be printed at the Business Box.  Typical A0 size patterns ( 33.1 x 46.8inch) can easily be printed on ARCH E (36x48 inch) sheets.
Why Print my PDF Patterns at The Business Box?
Typically, your printer prints on letter size paper, or perhaps up to 11x17.  At The Business Box, we have machines that can print on rolled paper up to 36" wide, allowing for much bigger prints. Typically we produce several full pattern pieces all on one convenient sheet.  In order to get your pricing - you will need to know how many sheets your PDF contains. Please input the number of pattern pages.  If one page is entered and the pattern is actually three pages we will default to printing the first page.  You can also  provide notes to the printer to clarify, before finalizing your order. 
Special Pricing for Pattern Colour Printing
Sewing Patterns are unique because they don't use much ink.  At the Business Box we recognize the colour in the pattern can help make your work easier.  Therefore, we are pleased to offer an option to print your patterns with colour ink at a low cost compared to most colour wide formats.
Quick Turnaround 
The Business Typically will print your sewing plans within 1 - 4 business days and then contact you for a pick up appointment.  You can also choose shipping at check out.